I wanted to translate from one flat surface to another. In fact, my learning disabilities controlled a lot of things. I don't recognize faces, so I'm sure it's what drove me to portraits in the first place.
I discovered about 150 dots is the minimum number of dots to make a specific recognizable person. You can make something that looks like a head, with fewer dots, but you won't be able to give much information about who it is.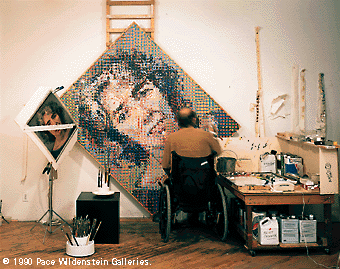 Elizabeth portrait, 1990
I'm plagued with indecision in my life. I can't figure out what to order in a restaurant.
Painting is the most magical of mediums. The transcendence is truly amazing to me every time I go to a museum and I see how somebody figured another way to rub colored dirt on a flat surface and make space where there is no space or make you think of a life experience.
It doesn't upset artists to find out that artists used lenses or mirrors or other aids, but it certainly does upset the art historians.
I always thought that one of the reasons why a painter likes especially to have other painters look at his or her work is the shared experience of having pushed paint around.
"The advice I like to give young artists, or really anybody who'll listen to me, is not to wait around for inspiration. Inspiration is for amateurs; the rest of us just show up and get to work. If you wait around for the clouds to part and a bolt of lightning to strike you in the brain, you are not going to make an awful lot of work. All the best ideas come out of the process; they come out of the work itself. Things occur to you. If you're sitting around trying to dream up a great art idea, you can sit there a long time before anything happens. But if you just get to work, something will occur to you and something else will occur to you and something else that you reject will push you in another direction. Inspiration is absolutely unnecessary and somehow deceptive. You feel like you need this great idea before you can get down to work, and I find that's almost never the case."
― Chuck Close
http://en.wikipedia.org/wiki/Chuck_Close
(read about what Mr. Close calls "The Event" in 1988 where he suffered a seizure which left him paralyzed from the neck down.)