1888
Let's go and get drunk on light again – it has the power to console.

Study for 'The Channel at Gravelines, Evening
They see poetry in what I have done. No. I apply my methods, and that is all there is to it.
Sunday on La Grande Jatte — 1884, 1884/86 (detail)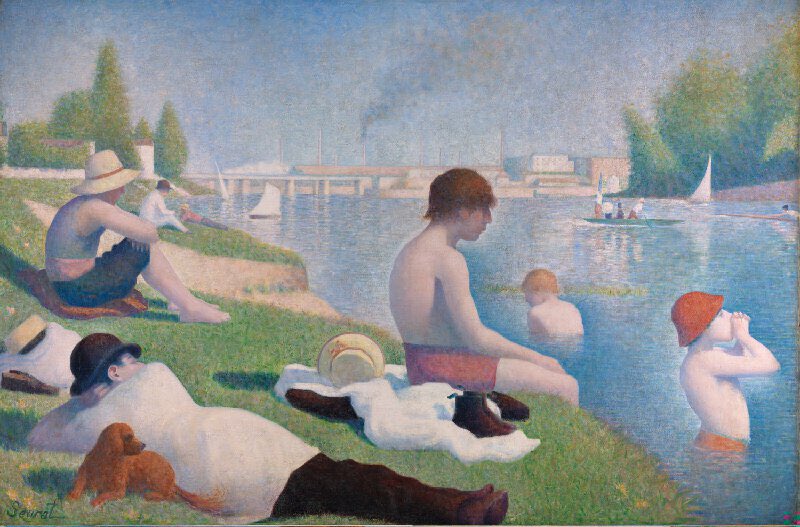 The shimmering heat of Bathers at Asnieres, 1884
La Parade by Seurat (detail)
The Eiffel Tower (1889)
Some say they see Poetry in my paintings; I see only science.
Painting is the art of hollowing a surface.
Seurat took to heart the color theorists' notion of a scientific approach to painting. He believed that a painter could use color to create harmony and emotion in art in the same way that a musician uses counterpoint and variation to create harmony in music. He theorized that the scientific application of color was like any other natural law, and he was driven to prove this conjecture. He thought that the knowledge of perception and optical laws could be used to create a new language of art based on its own set of heuristics and he set out to show this language using lines, color intensity and color schema. Seurat called this language Chromoluminarism.
Seurat's theories can be summarized as follows: The emotion of gaiety can be achieved by the domination of luminous hues, by the predominance of warm colors, and by the use of lines directed upward. Calm is achieved through an equivalence/balance of the use of the light and the dark, by the balance of warm and cold colors, and by lines that are horizontal. Sadness is achieved by using dark and cold colors and by lines pointing downward.
courtesy of http://en.wikipedia.org/wiki/Georges_Seurat