Color is the keyboard, the eyes are the hammers, the soul is the piano with its many chords. The artist is the hand that, by touching this or that key, sets the soul vibrating automatically.
Munich-Schwabing with the Church of St. Ursula by Wassily Kandinsky, 1908
1930
I applied streaks and blobs of color onto the canvas with a palette knife and I made them sing with all the intensity I could...
Everything starts from a dot.
Dominant Curve, 1936
Venice, 1930s
From Left: Irene Guggenheim, Kandinsky, Hilla Rebay, and Solomon R. Guggenheim
1930
The artist must train not only his eye but also his soul.
Of all the arts, abstract painting is the most difficult. It demands that you know how to draw well, that you have a heightened sensitivity for composition and for colors, and that you be a true poet. This last is essential.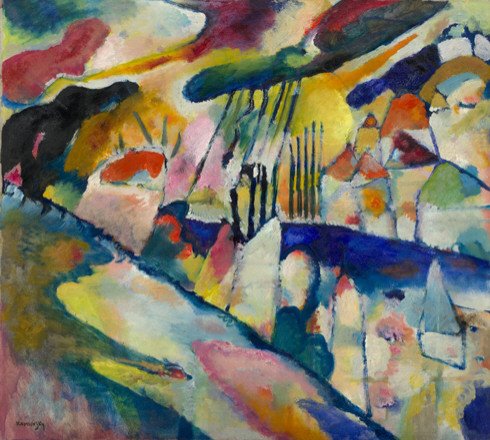 Landscape with Rain
Wassily Kandinsky and Paul Klee
1929
www.wassily-kandinsky.org
Wassily Kandinsky (Wikipedia)